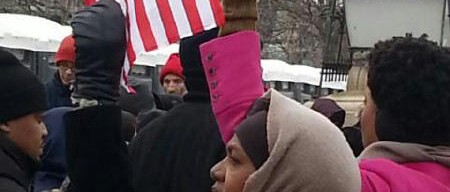 Posted on:

January 25, 2013
No Comments
Imagine… a dawn breaks on Jan 21, 2013. The inauguration for a President renewed and refreshed. Committed to four more years of service, education, and social responsibility.
Empower… a King's dream. Which seeks justice and equality for all with a focus on jobs, peace, and freedom; issues that continue to plague America's underserved for more than 50 years.
Inspire… messaging which underscores the responsibility of educating youth, and investing in their skill development so that the next generation may lead us.
Youth… who are trained and trusted to lead. Who demonstrate a character development framework that guides their decisions, and underscores their servant leadership approach to life.
Imagine the Inauguration of a President.
Two of EOYDC's alumni, Dalvin Butler, Georgetown senior and Felicity Lucas, Howard grad and National Institute of Health employee, joined me  to witness history in the collective inauguration of President Obama and the distinguished celebration of Martin Luther King Jr. Birthday. Both celebrations of service were empowering and uplifting. The energy and positive spirit were infectious. The sense of responsibility for the young, the elderly, and all those in between spoke to the importance of living your legacy in the present. Millions of people gathered together, engaged in harmonious accord for the purpose of praising the first African American President of the United States.
These Oakland natives were just happy to bear witness. Shivering in 20 degree weather, kept warm only by sheer enthusiasm. Their eyes lit up as they saw children younger than two also there to witness. They jumped up as they viewed the many wheelchairs of Tuskegee Airman being wheeled forth to participate. The excitement climaxed as they heard the crowd roar in anticipation of the first family being escorted to their stage seats. Then finally, the oath – taken with the MLK Jr. family bible – the connection was complete. One service, one leader, one nation. Obama, King, Butler, or Lucas, the youth recognized that everyone's role of personal responsibility for social justice was redefined and recommitted to on Jan 21, 2013.
Regina Jackson
President & CEO