Posted on:

January 30, 2013
No Comments
In 2005,
Martin Luther King III
found his way to
EOYDC
during his journey to document poverty in America.He walked EOYDC's hallowed halls and connected to a key audience in the GED program. The discussion that ensued was both alarming and redundant.

The stories he told of poverty in America were consistent with challenges of the underserved everywhere; high drop out rates, high unemployment rates, broken homes, despair, and little hope for the future. East Oakland was not immune. The students responded, affirming their personal experiences like those of people in Alabama, Chicago, New York and elsewhere across the country. They were hoping for a poverty cure, yet in listening to Martin Luther King III, it seemed that Martin's father's dream of peace, justice and freedom was out of reach, even hopeless.
Martin shared that the GED students were a demonstration of hope in America. Their work to drop back in after dropping out was just the kind of progress and inspired action that could help them turn the odds in their favor. He encouraged them to stay the course, expanding their education and life skill choices. He asked them to consider service to their community. After all, their example to reengineer through education was a testament to personal power and the will to change life for  the better. This testament should be shouted from the mountaintops.About a month after his departure, Martin would call back to extend a very important invitation: an all expenses paid trip for three to his National Conference on Poverty in America Washington, DC. While none of the GED students were in a position to attend, two high seniors were selected for this tremendous opportunity. Lanikque Howard (Oakland High School) and Jessica Reed (Skyline High School) were chosen to attend. This offer doubled in impact as I saw an opportunity to provide college exposure to these students before and after the conference. (This would birth the first annual college tour and a new relationship with sponsor Southwest Airlines)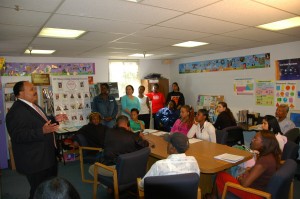 We swept into DC on Southwest Airlines; arriving in the middle of a storm.  First we visited a wet and windy Howard University. The students marveled at the tremendous presence of this historically Black College.  Before we headed to the conference, we would receive a personal tour of the nation's capitol from Congressman Jesse Jackson Jr. (son of Reverend Jesse Jackson, a civil rights leader who worked with Dr. King). We walked in the Rotunda, National Statuary Hall where Dr. Martin Luther King, Jr. now has a spot (it wasn't there in 2005), the Hall of Columns, and the crypt which leads to the Capitol Dome. We continued through a Congressional meeting room where national policy announcements are made and visited the Congressional Dining Hall, a place that the girls reflected on as one where the former Congressman Adam Clayton Powell, Jr. was denied eating privileges in the 1950's because of his race.
During the two day conference, Lanikque and Jessica were welcomed by Martin King III, treated to conversations with and panel speakers like Dick Gregory, and US Senators. They met youth from all over the country, asked questions, received answers, made suggestions from the youth perspective. Inspired by their own participation, they vowed to continue in youth servant leadership, a testiment to Dr. King's dream.
Fast forward to Inauguration Day 2013. After attending the Inauguration with other EOYDC alumni, I went to the Newseum to watch the Presidential Parade. While there I ran into, guess who? Yes, Martin King III, who was taping with Bet News, given that it was also the Birthday of his father. We chatted and I updated him on the progress of the students he had met 8 years earlier. Lanikque is now is in a PhD program for social welfare at the University of Wisconsin (she graduated from UC Berkeley in 2011 and studied at University of Utretch in Netherlands). Jessica graduated from Hampton University in business and is now working in DC. Another student that he never met was part of the US Congressional Page program. Other youth leaders have proposed policy which are in the form of Assembly bills and published books. Martin was amazed and impressed!
A King recognized, invested in, and believed in EOYDC's programming, and had a multi-dimensional impact along the way!
President & CEO