No Comments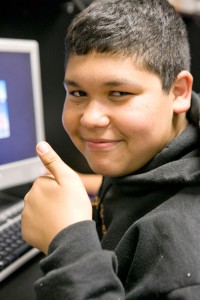 This class is designed to help our youngest participants ages 8-12, understand the basic operations of the computer as it relates to everyday use. The long-term goal of this class is to teach students how to use the computer to complete school projects and assignments.
Upon entering the class, each student will receive personalized typing instruction from the instructor.  Visual aids such as mock keyboards and finger-placement charts are used to assist during the initial instruction process.  The students will then do actual work using the computers.  All students will use the Typing Instructor Program to concentrate on finger placement, speed, and accuracy.  The main focus is to ensure that each student understands how to use the keyboard.
After students have shown mastery of the keyboard, they will learn how to create documents in programs such as Microsoft Word and Publisher. Students will then learn how to insert pictures into documents, cut and paste, and use various program tools to create flyers, birthday cards cover pages etc..  By using these programs, the students will be able to produce professional assignments for school and other projects.
Students will be given awarded certificates based upon the following criteria:
The attendance of the student
Does the student attend class regularly?
Does the student stay for the entire class?
The amount of effort that the student puts forth during class
Is the student an agent of his or her own learning?
Does the student try to grasp the subject matter?
Does the student take the youth computer class seriously?
The behavior of the student
Does the student work in a quiet and productive manner?
Is the student a distraction to those around him or her?