Changing Lives One Day At A Time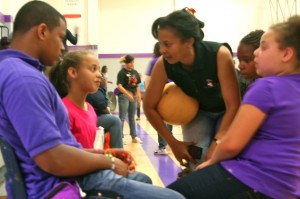 Every day the EOYDC staff watch transformations of young people from careless to thoughtful, from spontaneous youth to planners, understanding the consequence of their actions and the importance of preventive behavior.  We are all so proud to view success and true leadership in action on so many levels in our young people. Also, to the Friends of the EOYDC, we the staff thank you for your continued support in the day by day transformation of young people – our most precious resource!

Since this is a summer youth leadership program, we felt that it would be appropriate to have youth engaged in all aspects of the program. We have added four new classes: Fashion, Spanish, Dance and Music.
A list of available classes can be found below. All classes are taught entirely by youth instructors!
Art:
Students create murals using paint and water balloons
Students learn how to do urban art using block letters and watercolors
Students use clay to create small pieces of sculpture
Computers:
Students create newsletters documenting events at EOYDC
Students learned how to take pictures using digital cameras
The 12-13 year olds created a slideshow presentation documenting classes and presentations that occurred during the course of the S.C.E.P.
Cooking:
Students learned about basic kitchen tools and kitchen safety
Students learn to create various types of easy to prepare snacks
Students learn how to cook a family style meal
Creative Writing:
Students work on their public speaking skills through role play exercises
Students write compositions detailing their experiences in the S.C.E.P.
Students create acrostic poems
Dance:
Students are involved in daily exercises in order to stay physically fit
Students are taught dances and helped to choreograph dances that were performed at the Parent Night/Talent Show
Drama
Students will learn to role play basic feelings through skits
Students will learn basic concepts of drama on stage, overcoming fears and peer pressure
Students learn to become the character, forget about life and problems while you're in character
Engineering
Students  learn the three basic rules of engineering:  know your product, know your consumer and be able to recognize your problem and find the solution
Students learn how to think out of the box and not only to know one solution but multiple solutions to the problem
Students also learn the basic laws of physics such as gravity Inertia and Friction
Fashion:
Students learn to express themselves though style and dress
Students are able to design and create their own t-shirts
Life Skills:
Students learn the six pillars of character
Students learn to promote anti-violence through active engagement, mock conflict resolution
Students learn about healthy relationships, hygiene issues and effective communications re: abuse
Math:
Students  will learn math concepts (adding, subtracting, multiplying, dividing)
Students will learn basic financial literacy
Music:
Students are exposed to various instruments such as the piano, drums, and steel pans
Students are taught choral music arrangements of popular songs
Health and Wellness:
Students learn about team work and cooperation
Students are able to get exercise through participation in various games
Students learn the value and concept of good sportsmanship
Science:
Students learn about the digestive system
Students learn about the body(bones, muscles etc)
Students learn about polymorphism
Students play memory games based upon what they learn
Spanish:
Students learn basic components of conversational Spanish
Students are exposed to numerous vocabulary words in the Spanish language
---
ABOUT S.C.E.P.
Summer Cultural Enrichment Program Registration Form 2013
Registración Para el Verano 2013