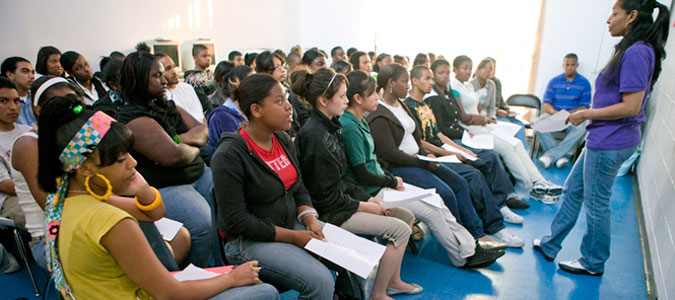 Helpful Ways To Land The Job
Job Targeting/Market Trends:
Job targeting helps you map out your job search plan, and is the perfect way to target the best jobs based on your skills, experience, strengths, and interest.
Tip: 
Keeping yourself aware of current market trends will allow you to plan for the future, and get the education/training needed for careers that are on the rise.
Application/ Information Sessions
Application sessions allow the job seeker to meet individually or in group sessions with the company recruiter: to discuss, ask questions and receive information about the job opportunity.
Annual Job Fairs
The East Oakland Youth Development Center host two (2) annual job fairs each year — Spring Break and the Fall Job fair season (November).
Referrals to over 75 Employers
Our list of employers include long standing partners who attend our annual Spring and Fall job fairs, application/information sessions, and ultimately depend on our expertise in referring excellent clients.
Scheduled Interviews
Upon completion of the employment training program, our clients are referred to and or scheduled for interviews with multiple employment opportunities provided from our list of partner companies.
If There Is A Will There Is A Way– EOYDC On World News Tonight
A Brush Up On Interviewing Skills- What Employers Look For
Presentation/How to Conduct Yourself
It is very important to always demonstrate appropriate body language.  It can be something as simple as how you enter or exit the building, how you sit, how you stand, or how you walk.  How you carry yourself speaks louder than words.  Always express yourself clearly and always use proper Standard English.
Tip: It is important to know how to properly introduce yourself to the employer/interviewer. The way you open and close the interview is very vital to your overall success. The employer/interviewer will know that you have received etiquette training by the way you shake his/her hand
Interview Questions
It is very important to be prepared for logical questions you may be asked in the interview. Always know exactly what job you are applying for. Be prepared to tell the interviewer what jobs you have held, and why you left. Take the time to find out as much as you can about the company incase you're asked.  Be prepared to tell the employer what type of salary you seek. If asked, be prepared to let the employer know what your future goals are as it pertains to their company.
Green Flag Statements vs. Red Flag Statements
There are times when the interviewer will ask you if you have had any job challenges in the past that were difficult and how you handled it.  It is very important to let the employer know that every job challenge is an opportunity to grow and gain greater skills and work experience.  Never give a new employer the impression that you can't handle whatever challenges your new job may present.
Master Application
Every participant is required to complete a master application.  The master application is a training component that helps the participant gather employment history, skills and qualifications, education, and references.  When participants apply for jobs in person or online, all necessary documentation is available.  Every job seeker should have a copy of their master application in their job search folder.
Attitude, Attire, and Personal Appearance
A positive attitude will take you a long way. Employers are always looking for future employees with a great attitude. Great attitudes will lift the spirits and morale of the company and potentially give co-workers a greater inspiration and motivation to strive harder in their current positions.
Tip: Your first impression is the most important one.  Your attire must be professional and appropriate for the interview.