No Comments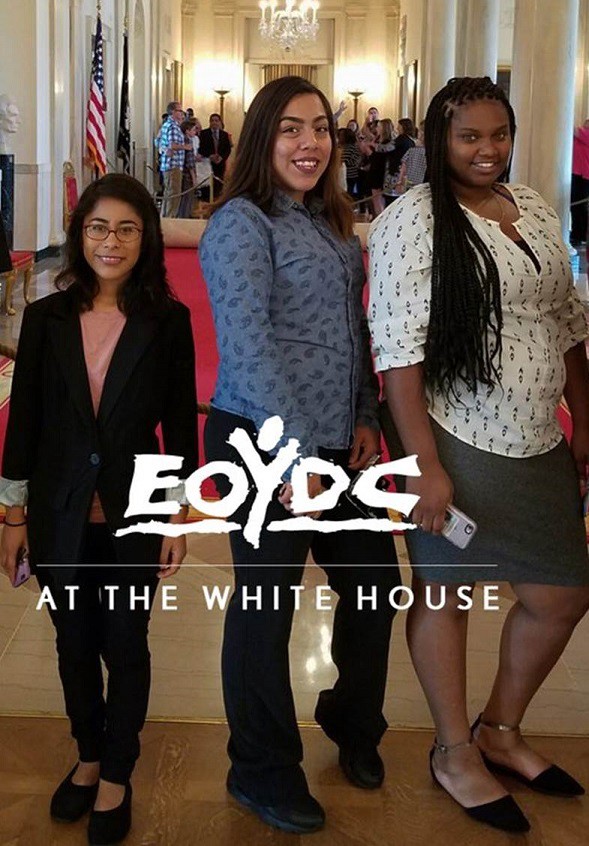 Recently, I participated in and watched an incredible political campaign elevating a woman as the Democratic nominee for the Office of President of the United States (for the first time in history). While the electoral process was full of ups and downs and ultimately left me traumatized, I still believe in the exceptional capacity of women to lead in this country. Women are everywhere — from business to education to technology to athletics to entertainment to politics to non-profits and more — but there are simply not enough of us leading.
It is based upon this belief that we train, expose, nurture, and prepare our young ladies for success in whatever they do. We begin with a foundation of character-based leadership and putting youth in positions to succeed by exposure to service and work-based learning experiences with the expectation of success.
In order to knock down walls and break through ceilings, we must provide exposure to real-life examples. We are thankful to Southwest Airlines for our College Tour to DC and Virginia. In addition to visiting the amazing campuses of Georgetown, Howard, and Hampton Universities, our students had the opportunity to visit the White House. The recent opening of the Smithsonian Museum for African American History and Culture allowed them to travel through time, learning about the challenged histories we have in common. In addition to these visits, our students also conducted briefings with senior staff of White House Educational Initiatives, The State Department, and the NFL Players Association. Wherever possible, they engaged people that looked like them — people of color and women. It is important to share as many examples of success as we can put our hands on to underscore that our girls need only have vision, hard work ethic, and opportunity to soar.
For our younger girls, we impart many of the examples of success in the form of presenters and high school and college-aged youth leaders. These are people (often from their community) they can connect with and talk to. We have best demonstrated these opportunities through our cascading mentoring model. Our kids can see people several years ahead of them, mimic their behavior, and hear about their opportunities, pitfalls, accidents, and real-life challenges. Through these powerful connections, our young people begin to visualize a world outside of their zip code, a broader space that they can belong in, and an opportunity to chart their own success.
We offer unique sisterhood opportunities year-round to develop the strength and bonds of females. Partnership with Links Inc. and Girl Scouts provide critical experiences which support and facilitate the healthy relationship development we so desperately need between our female populations.
The EOYDC legacy is full of dynamic women who are movers and shakers. They are businesswomen, principals, lawyers, authors, executive directors, and more. Below, you will also find Michele Thornton's (Senior VP at Centric Inc. and author of Stratechic, a book providing business and personal tips for success) feature.
Today, you can find our tremendous alumni returning to lead at EOYDC, both on staff and on the board of directors! Our young ladies are graduating from college, Masters, and Ph.D. programs, with many focusing on social welfare, psychology, health science, and business to positively impact our communities. They are also participating in study abroad programs to underscore our global footprint. We have an exceptional pipeline to lead us into the future!
Therefore it gives me great pleasure to introduce the sixth installation of the Powerful Women of EOYDC!
BRILLIANT SCHOLARS
Alondra Varela
Coliseum College Prep Academy
San Jose State University, Health Science
I joined the East Oakland Youth Development center 8 years ago because I wanted to be able to provide support to children like me who come from low-income communities. If it weren't for the non-profit organizations I joined with a similar objective to the EOYDC, I wouldn't be where I am today. Throughout my life I have heard "you're not going to make it" or "why even try". I found a safe environment at the EOYDC because Ms. Regina Jackson understands the hardships East Oakland residents encounter on a daily basis. One thing I will never forget is when my tutor asked me what college I would be attending. I told him I was going to attend San Jose State University. He then replied that I was like an outlier on a bell curve, even when everyone around me was participating in illicit activities, I'm doing the complete opposite. I took great pride in this and started realizing how the EOYDC provided that nurturing environment I so desperately needed. When I would get home from school, I did not get the support I needed, which made things more difficult. Doing my homework was a challenge because my mom did not have enough education to assist me. However, I set my personal problems aside and I always kept my goals in mind. I ended up staying on track and making it to the honor roll. I did this by staying after school, seeking extra help, and ignoring people in my life who did not support me. Through the experiences I have had at the EOYDC I am more prepared to finish my college degree and pursue a professional career. I was also introduced to traveling through the EOYDC because I was a part of the Pathway to College New York college tour. This tour encouraged me to step outside my comfort zone and experience new cultures. As a result I was selected as a Gilman Scholar by the U.S. Department of Education for a fully funded semester exchange in the United Kingdom. Living in the United States as a woman of color is not easy but thanks to Ms. Regina Jackson I am proud of my culture and I am more confident in my capabilities.
Catherine Scott
Oakland Unity High
San Francisco State University, Philosophy
My name is Catherine Scott and I'm currently a sophomore at San Francisco State University. I have been a part of the EOYDC since I was about twelve or thirteen years old. I started at the EOYDC participating in steel drum classes. When I turned fourteen, I became a youth leader in the Summer Cultural Enrichment Program. After a few years of being a youth leader in SCEP, I became a tutor in the After School Leadership Academy. I also participated in the Pathways to College program. Through the EOYDC, I was able to attend a Washington DC college tour which was especially significant because it occurred the same time as the Obama re-election and I was very honored to be a part of that experience. We stood on Lafayette Square right behind the White House waiting for the election results. It was such an exciting time! Currently I am a youth leader in the After School Leadership Academy. Over the years, as a result of being a part of EOYDC, I've been given the opportunity to meet and bond with a lot of people and I have grown as a person and as a role model. EOYDC has taught me about honesty and integrity which are two values that I now uphold boldly. Also through the years, Ms. Regina has gained my utmost respect because I see how hard she works and I see that her intentions are good. When I first met her, I thought she was mean, but I've come to love and respect her as the beautiful strong black woman that she is. I love being a youth leader because I have the opportunity to make a difference in children's lives. I have the opportunity to be a good role model and to make them feel loved. Even though they can be a handful at times, I love working with the kids. I feel honored to be a part of something that I am so passionate about; building up the youth in my community.
Elisha Davis
Berkeley High School
Arizona State University, Communication
Master of Nonprofit Leadership and Management
My experience at EOYDC has always been very fun and welcoming. I grew up playing basketball and there were many different leagues and tournaments given at the center. Due to me living in Oakland, but going to school out of the district, I was not able to attend the center as much as I wanted to. But I still received the same love every time I came and it feels good to be in a judge free zone around people who want to help me and others make it in life.
I first came to the center when I was very young in elementary school. It was just fun to be playing basketball with my friends and meeting other kids in the community. From EOYDC, I learned there are people who want to see you win and they will challenge you in more ways than one because they see your potential. We all have fight in us, we are smart and we all can be someone special in life and the physical, mental, emotional, and spiritual support EOYDC provides for each youth or adult is phenomenal and allows us to see those qualities within our self. The best part is the center is in East Oakland and despite the all the bad that goes on in the community, the center has been there since 1973 and never gave up. The center has always treated me with respect and makes sure I am good.
Although I have grown up, I am still learning great things about EOYDC and from it because I am now in a position that allows me to see what goes on behind the scenes and really analyze the variety of great resources and opportunities available to the youth and adults. I love seeing the progress over time; going away for college and coming back to see there's a new building, apple lab, and the whole facility being remodeled is a great blessing. Being mentored by EOYDC is a reminder of as long as you know where you come from and are aware of the many struggles, do not make an excuse because you can always make something out of nothing with hard work, a growth mindset, being focused and wanting a better future. Ms. Regina in particular has been the same since I first met her and even though she has a million different responsibilities, she still keeps her word and makes it a priority to do a great job so she definitely has been very helpful with her wisdom and experience.
Gabriela Solis
Coliseum College Prep Academy
San Francisco State University, Health Science
My name is Gabriela Solis and I have been a participant for almost ten years now. I am currently a senior at San Francisco State University with Health Education as my major. My future goal is to receive my master's degree in Public Health from UC Berkeley. With this degree I want to work with youth in nutrition and exercise.
When I first started EOYDC, I was involved in the summer program in the 12 & 13 group. It was a great experience and I have met wonderful people who influenced me to do great things in life. Many of these people I currently have a great friendship with. For several years in the summer, I volunteered with the accounting department. Working with staff was helpful because I realized that working as an accountant was not for me.
I have also been involved with the PTC program ever since high school. PTC has helped me a lot from going to college tours around the Bay Area and New York, applying to colleges, scholarships, and other help I needed. Since I am a first generation student going to college, PTC has helped me succeed throughout my high school and college experience. Without the support of PTC, I would not have made the right decision of choosing the best college for me and succeeding in school. The support I received from EOYDC is the reason why I want to work with the youth.
Marquita Price
EOYDC GED Graduate
Merritt College, AS Mathematics
My name is Marquita 'Keta' Price, and my youth was salvaged by basketball programs provided throughout the East Bay. Through the medium of basketball, I developed an intimate relationship with the EOYDC facility and family. I participated in various free camps, and received the MVP distinction in the girls Gary Payton tournament. I even participated in highly competitive coed basketball leagues. My most memorable league was the high school Mark Curry Tournament, because my middle school AAU team (The Bay Area Bulldogs) were allowed to compete and we won the entire tournament. During this time, gym staff members such as Coach Kwame and Rico were my most personable contacts. I was a 4.0 scholar athlete on track to graduate high school a year ahead of time.
I attended high school at Encinal High (in Alameda) in an attempt to escape the distractions or problems that were expected occur while attending a public school in the 'hood' such as Castlemont, Fremont, or Oakland Tech. I learned fast that it's not your environment that designs who you are, but rather the individual choices you make. I chose to underachieve after ninth grade, because as a black woman I didn't feel connected to any of the curriculum we were force fed (especially in History and English). As a result of bottling this feeling and making multiple poor social decisions, I went from graduating early to not graduating at all. This is what reignited and furthered my relationships with the famous East Oakland Youth Development Center facility and family.
After being out of high school for 3 years I wanted to advance my place in the workforce, because I was being subjected to minimum wages or low quality jobs compared to my skills and potential. I returned to EOYDC during my earlier years in college to volunteer for the ceramics program, and I saw an advertisement for the GED program. I debated with myself over and over rather I should participate or not. I finally decided to sign up. I entered the program feeling like an unimportant statistic, ashamed, and a bit fearful. I was quickly eased by Ms. Anana's warm welcome, caring nature, and encouraging spirit. She viewed me as much more than I even viewed myself during that time period. We had three months to finish the program, and I finished in just one. I came for two weeks straight to work on the provided curriculum as a refresher, and felt ready to complete the test. When exiting the program, I felt more accomplished than I had felt in a while. Post completion of the exam, I was asked to share something that I didn't even realize existed — my journey. Providing this documentation was the beginning of the inner healing I needed. Also following the program, I had developed a closer relationship with Ms. Anana and one of my biggest modern day idols Ms. Regina Jackson. They constantly encouraged me and viewed me as a family member. They both helped me realize I do have a story worth telling.
I have returned to the GED program and other high school programs as an alumnae guest speaker. The cultivation of my confidence led me to become further engaged in the community, extracurricular school activities, and to actively repair my college GPA. I was already ranked number one for steals and assists in Nor Cal Preps for participating in Merritt's Women's Intercollegiate basketball team. I also helped to re-establish the presence of the Black Student Union. I was elected Student Body President of Merritt College in Fall of 2015. I currently still attend Merritt College. I am now the Student Trustee of the Peralta Community College School District. My academic goals are to transfer to UC Berkeley's College of Environmental Design to pursue a BA in Urban Planning. This major covers many of my social interests such as environmental sustainability, transportation, housing, city and regional development, and economic/workforce development. My personal goals are to utilize the skills of my major to partner with the community in order to advance the socioeconomic climate of East Oakland. I am currently interning for the City of Oakland's Planning and Building Department. Although East Oakland is often neglected by its own city council, it is becoming more recognized by outside investors as a diamond in the rough, with many potentials; and so it is my goal to keep East Oakland affordable, livable, and economically equitable for the native residents and their upcoming generations.
Throughout my involvement with the EOYDC I have also attended Tech workshops, drumming workshops, and self-defense workshops. It is my full belief that the work of Ms. Regina, Ms. Anana, and the EOYDC family is parallel to my goals, therefore I will continue to support the center in any way possible. I say it all the time, "The community feeling of EOYDC played a big role in keeping me off the streets!" and I still stand by that statement today.
Nijae Jones
San Leandro High School
UC Berkeley, Legal Studies
My name is Nijae Jones and I have been a member of EOYDC for almost 8 years. I first joined EOYDC track club when I was 13, and became a member of the Pathway to College Program during high school. I received a full track & field athletic/ academic scholarship to the University of California at Berkeley. I am currently a senior and will be graduating in May 2017 with a degree in Legal Studies. After graduation, I plan to attend law school (I am still applying) where I will have a concentration in either corporate or entertainment law.
Being a member of the EOYDC track & field program, as well as my high school's team consumed a great amount of my time, but Coach Curtis Taylor (with the help of Ms. Regina) was still able to teach us all of the essential skills to navigate through the college selection process. Being a part of the EOYDC program overall prepared us more than a lot of other athletes who do not come from such a supportive foundation. Even though we allocated a lot of our time to track & field, being a part of EOYDC allowed us to gain life skills that would be essential as we grow older and eventually depart sports. One place i will stay connected to is EOYDC! Its home!
Nivana Horsley
Moreau Catholic High School
Laney College, AA Natural Science
My name is Nivana Horsley and I was given the wonderful opportunity to become part of the EOYDC family in 2009 as a youth leader. Working here taught me the importance of giving back to my community through sharing knowledge I have attained over the years. I was able to teach the children that it is cool to be excited about learning new things. It is also encouraged to be willing to step outside of your comfort zone to evolve. Stepping out of my comfort zone allowed for more opportunities in every aspect of life. Because of this great life lesson, I have had the opportunity to find excellent work and build essential relationships to further my goal of becoming an anesthesiologist. I recently graduated with my Associates Degree in Natural Sciences from Laney College and am in the process of applying to Nursing School while working for BART. I recently went back to EOYDC for a visit and was amazed at the new building. Wow! I was also able to see how EOYDC has helped and influenced so many other youth. The impact it makes in Oakland is astonishing and I am grateful to have been part of it. Thank you EOYDC!
Simone Batiste
The Athenian School
University of San Diego, Biology
Trustworthiness. Respect. Responsibility. Fairness. Caring. Citizenship. Valuing these pillars of character have shaped me into the young lady that I am today. I acquired a deeper understanding and application of these characteristics through my interactions with the East Oakland Youth Development Center, its countless mentors, talented peers, and opportunities. My name is Simone Batiste, an extremely blessed product of Oakland, and I first attended the EOYDC when I was around the age of 7. I am currently in my 2nd year at the University of San Diego, studying Biology on a pre-med track. My goals in life are to keep pursuing higher education and higher levels of understanding the world around me so that I may apply my acquired knowledge to help make enhance future generations. Since I was a young child, I have always had a great curiosity to learn and to grow.
When I got to college, my curiosities grew immensely. I wanted to learn how to build my intellectual thoughts, expand my comfort zones, proactively be engaged, and how to positively insight and lead change. The great thing about college, besides the privilege of being able to learn, is that there are tons of resources at your fingertips and plenty of amazingly passionate people to meet. My freshman year, I jumped right into being an active member in clubs like Black Student Union and spaces like the Changemaker Hub, Center for Inclusion and Diversity, and Student Support Services. My involvement allowed me to make connections to people and organizations that cultivated my academic, professional, social, and personal development. In addition, my involvements and interactions encouraged and supported me to be a stronger community leader, both outside and inside the classroom.
After an impactful first year in college, it was very refreshing to come back home during the summer and do what I had always hoped to do. I was able to share and relate my experiences in college back to what was happening in Oakland. I was able to apply my new skills and perspectives to my summer internship position held at the EOYDC as Youth Coordinator for the After School Leadership Academy. I had a very enjoyable experience watching how over one summer youth participants were able to discover new talents, hobbies, and personal development. The EOYDC has this magical way of inspiring youth to aspire towards doing and being greater. The center has had a magical influence on my values and my aspirations to be successful, confident, and true to myself.
Umiika Rose
McClymonds High School
California State University at Northridge, Psychology
"Life's most persistent and urgent question is, what are you doing for others?" (MLK). Over the years, many people have poured into my life and I have not let their investment go to waste. As a sophomore at California State University, Northridge, I am studying Psychology and minoring in Gender Women's Studies. The ways that Ms. Regina and EOYDC invested in me have empowered me to make moves and decisions I never could have imagined without them. When a community of people show their commitment and serve daily as a role model to younger kids who are not exposed to success in their lives- that is pure gold! That is love! That is change! And that is what EOYDC is about!
As a teenager, I did not see myself as worthy to be asked to take a trip outside of the U.S., but Ms. Regina, in partnership with my principal at the time, offered me the opportunity to go to China. The journey that I went on just to get on the plane to go to China was one of many obstacles. The greatest challenge that I faced was my own anxiety and feelings of self-doubt. Not only had I been inconsistent and at times irresponsible, Ms. Regina saw something in me and continued to push me to make the trip happen. From the moment I found out to the day I stepped foot in China, I wrestled with my fears but once I reached my destination I knew that I was meant to be here and the impact of that trip has continued to reverberate in my life to this day. Having this opportunity with EOYDC exposed me to a whole other world outside of Oakland and California. I am no longer looking at myself with doubt, I see now that I am worthy of life, opportunities, success, and love.
Even after the China trip, EOYDC's investment did not stop there. Ms. Regina told me about Pathway to College (PTC) and she recommended that I attend. Soon enough, I took Ms. Regina up on her offer and went to Pathway to College. One thing that I learned at PTC was how to financially budget by distinguishing between my "needs" and "wants." Ms. Talia Taylor, the PTC and career manager, led this activity. Now that I am in college, I get the opportunity to practice what I learned at PTC.
This past summer of 2016 I interned at the Summer Cultural Enrichment Program (SCEP) at EOYDC for 6 weeks. I worked as a youth leader and shadowed a Language Arts instructor. I worked this internship Monday through Friday and there was never a dull moment with the young people. When I walked into the gym their faces would immediately light up. My favorite part about SCEP was the March Against Violence! During the March Against Violence we all gathered as a community protected by the Oakland Police Department and walked down the streets of International Blvd. while we chanted as a unit, held up signs to express our hearts, and showed our support to families who have lost a loved one to this issue. This summer internship reminded me of my passion that I have working with young people.
I was honored when Ms. Regina asked me to send in my blog about my experience with EOYDC. As I sat down to write, I felt a rush of overwhelming joy and appreciation. EOYDC brings to mind thoughts of creative change, effective leadership, and sacrificial beings. What EOYDC has done for me is unforgettable and they continue to support me to this day. Each snapshot I shared is just the bare bones of how EOYDC has influenced my life and propelled me on to the next part of my journey. I am an example of how EOYDC is making change within the lives of young people who walk through those doors! Ms. Regina you are awesome! Thank you for your heart! Thank you for setting EOYDC's foundation on a vision of success and a commitment to change. We stand with you!
Victoria VanHook
Lionel Wilson College Prep
Tuskegee University, Social Work
Greetings, I am Victoria VanHook, a graduating senior at Tuskegee University, studying social work. I have been an active member of the East Oakland Youth Development Center (EOYDC) for three years. I would like to give recognition to Ms. Regina Jackson and the EOYDC program for making a positive and everlasting impact on my life through helping my individual growth and influencing some of my future goals.
Upon graduating with my Bachelors in Social Work, I desire attainment of a master's degree in social work with a concentration in program development. With the help of Ms. Regina, I was able to experience different youth events in multiple cities. Those experiences opened my eyes where I was able to see many powerful people in the Bay Area that I had never noticed before. I took complete interest in the Oakland Police Officers.
Through media, we have seen a lot of police brutality against minorities. Through the exposure with Ms. Regina, I realize that this is not the case with all police officers and their departments. The African American population is misrepresented in the police force, thus giving me the motivation to join a police academy after the completion of my master's degree and becoming the change I want to see. Along with becoming a police officer, I aspire to coordinate a youth program that provides resources and offers a safe environment for minority children as EOYDC did for me.
EMERGING LEADERS
Christen Tucker
Bishop O'Dowd High School
Syracuse University, B.S Health and Exercise Science
University of Miami, Doctorate of Physical Therapy
Physical Therapist, Performing Arts Physical Therapy
I was introduced to EOYDC during my freshman year of high school when I joined the track team. I attended Bishop O'Dowd High School where they known for their athletics, however everyone told me that I should train with the EOYDC track club. At the time the track coach was Curtis Taylor, who was known for his great work with helping track athletes really achieve their goals. Not only was he influential on the track, but he also made sure that the entire team was also performing well academically. I remember my freshman year he arranged for to meet with a tutor when I was struggling with my studies. I also have fond memories of Ms. Regina constantly motivating everyone to strive for greatness. Through the EOYDC I was fortunate enough to travel to cities such as, Pocatello, ID, Reno, NV and New York, NY for national track meets. It was through this exposure that I became recognized by colleges around the country. The EOYDC is truly one of the reasons I was able to earn a full athletic scholarship to Syracuse University.
I received my Bachelors of Science degree in Health and Exercise Science in 2006. Thanks to Curtis and the rest of the EOYDC family, I was well equipped to endure the rigors of being a Division I athlete and student during my time at Syracuse. Following my undergraduate studies, I went on to earn my Doctorate of Physical Therapy from the University of Miami.
Ready to take on any challenge I began my professional career at Cedar-Sinai Medical Center, in Los Angeles, where I treated patients who underwent neurological surgical intervention. I then joined Complete PT, where I trained in aquatic therapy and provided partial-weight bearing care for patients with orthopedic and neurological conditions.
I later returned to the east coast where I worked in Philadelphia treating varying orthopedic pathologies, ranging from ACL reconstruction to rotator cuff repair. In 2014, I embarked upon the amazing opportunity to volunteer with the US Olympic Team, in Colorado Springs, CO. During my time at the Olympic Training Center, I provided sideline care for the men's gymnastics team and administered first aid care during the 2014 IBSA World Judo Championship for the visually impaired.
Now residing in New York, I have taken my skills to Broadway, treating performers prior to hitting the big stage. I have worked on shows Matilda, Kinky Boots, & The Color Purple to name a few. Looking at the trajectory of my career I always circle back to the EOYDC and the impact it has had on this amazing journey.
Jamela Joseph
Bishop O'Dowd High School
Howard University '10, BA Public Relations,
Alameda County Program Manager, Fresh Lifelines for Youth (FLY)
To know Oakland is to know EOYDC. As an Oakland native, I am so proud to call Oakland my home because of beautiful places like EOYDC. EOYDC is a strong representation of hope, love, peace, and opportunity; it is the definition of community.
I have been so fortunate to have been welcomed into the EOYDC community! I was first introduced in high school through my good friend Dominique Drakeford. I had community service hours to fulfill and EOYDC opened their doors to support me in meeting my requirement.
While I did the community service because it was a requirement, little did I know, I would end up dedicating my life to service. As I grew older, I became more aware of the impact EOYDC had on young people and the community, and I was inspired to do the same meaningful work.
While at Howard University, I served as the Community Service Director of the National Council of Negro Women, and I got involved with organizations such as the Young Ladies of Tomorrow. During the winter and spring breaks, I would travel back home to be with family and to spend time in my community. I always enjoyed taking time to share my college experience at the Brotherhood Across America fellowship. After seeing the sense of community that was built through these conversations, the trust, the respect, and the strong virtues that were at the foundation, I would leave feeling more motivated to continue work with my community.
Upon graduation from Howard, I did a year-long apprenticeship with Public Allies, an AmeriCorps funded program, and I took a two month service trip to Ghana. After my travel from Ghana, I returned home to Oakland. I spent time organizing community events with friends in which we discussed topics such as healthy relationships, youth and education, and local politics. I also reconnected with my friend Dominique to organize a community thrift shop in which some of the proceeds went to EOYDC Pathway to College program.
Fast forward to today, I am currently the Alameda County Program Manager for Fresh Lifelines for Youth (FLY). Our mission at FLY is to prevent juvenile crime and incarceration through legal education, leadership training, and one on one mentoring. FLY has served Santa Clara and San Mateo Counties for many years. I have been blessed with the opportunity to help launch our Alameda County office.
As I think back to first stepping foot in EOYDC to fulfill community service hour requirements to now stepping in the doors in an effort to support other young people in fulfilling their community service hours, it all has come full circle! I am looking forward to starting FLY's first Alameda County after school Law Program at EOYDC!
Many people like myself, have had a great example of what community looks like because of EOYDC. I am thankful for the strong seed they have planted, providing an opportunity for me to connect, to share, to give, and to develop and encourage my sense of self and purpose. The work of EOYDC will continue to spread through Oakland, the Bay Area, and through all parts of the world because of all the people it has touched and inspired.
Juhandryn Dessames
Senior Staff Accountant
Co- Founder Lyric Performing Arts Academy
I grew up in the 80's. This was an interesting time, as drugs sales were increasing in East Oakland communities. With violence on the incline, and very few, or lack thereof, adults to guide youth into positive pathways, I somehow became a survivor of the East Oakland streets.
My ability to survive was credited to my salvation and recreation. The EOYDC was one of the community recreation programs that gave me the ability to escape the reality of my community, and my personal life obstacles. Programs, such as those at the EOYDC, gave me the opportunity to dream, believe, and persevere. The EOYDC created an environment for youth to be a youth, and remind us of our innocence. Not only did the EOYDC just help plant seeds for success in youth, they stayed consistent, with programs relevant to our needs, offering services for youth and young adults. The most motivating thing that I can say about the EOYDC is that it is still around helping youth today, becoming an extended family, building lifelong relationships that will see children through adulthood.
My dreams are a reality and now, as an adult, I aspire to spread the word to at risk youth that dreams come true and there is a better future beyond the perceived hopelessness in our communities. I believe performing arts played a crucial part in me overcoming struggles in my life. Through my passion and love for the arts, I have co-founded my own performing arts academy called Lyric Performing Arts Academy serving youth in Oakland, CA. I'm also proud to say that Lyric has recently partnered with the EOYDC. It feels good to say EOYDC was there for me and now I can join the legacy of helping other youth with the East Oakland Youth Development Center. Lyric, EOYDC, and Juhandryn are in the business of helping youth succeed!!
Marilyn Galiothe
St. Elizabeth's High School
University of California, Santa Cruz , B.A. Business Management Economic
St. Mary's College of California,M.B.A Finance and International Management.
Founder: Strive Survive Succeed
Entering in the East Oakland Youth Development Center doors I did not know what to expect. At the age of 10 I attended the karate classes at the center, very hesitant as this was a new surrounding for me I joined in the classes and had a good time with other children from the community. In my class sessions I learned good sportsmanship, the importance of teamwork and building confidence. When I look back at my experience at the center I learned great fundamentals of life!
Currently, I am a Finance Professional at Pacific Gas and Electric, Treasurer of the San Francisco Bay Area National Black MBA Association and the Founder of Strive Survive Succeed which is an organization the helps Oakland youth. I recently took part in the Brotherhood Across America Conference at the EOYDC where I provided information on scholarships that Strive Survive Succeed has available for our Oakland male graduating seniors. Participating in the conference was a joy; I received guidance and opportunity when attending the EOYDC programs as a child and now I was able to give back and contribute to the center which taught me so much.
The values that were instilled in me during my time at the EOYDC has played a significant part in my success today. EOYDC has had a big impact in my life and I am so proud and thankful to have had the experience of the EOYDC and I encourage community members to take advantage of the programs that are held at the center as the skills you learn are imperative in life's journey.
DISTINGUISHED PROFESSIONAL
Michele Thornton
Senior Vice President
Media Sales, Centric TV
A Viacom Company
As a high school student, I realized that the best experiences were outside of school in the larger community where I lived. I found myself playing basketball at EOYDC as early as 14. I remember great pick-up games, serious competition and most of all, laughter. Some of the friends I made there I am still in touch with today
About four years ago I wanted to plant different roots in Oakland. I called my good friend Lionel Bea to ask what I could do to get more involved in my hometown. He recommended EOYDC. Of course! I jumped in with both feet, establishing a scholarship in my Dad's name, Walt Thornton, to honor his entrepreneurial spirit and support a struggling student at the same time. I know he would be proud.
I didn't stop there. I was excited to be able to host a college tour of high school students at the BET New York Office, sharing professional tips for success and introducing them to familiar show business friends like Nicci Gilbert. I took great joy in watching their faces light up when they attended our annual "Upfront" presentation which showcases our fall shows. They saw some of their favorite performers and got to meet them as well. It felt good to be able to introduce my hometown millennials to the best of New York.
Recently, I released a book, entitled Stratechic. It is dedicated to women as well as men who want to live their best lives and take ownership of their destiny. I love sharing the strategies for success that have helped me climb the ladder to my current position as Senior Vice President. I am also humbled to share my story with Oakland students who might not know that my journey was and is possible. Thanks EOYDC, giving back has given me more than I imagined!