Posted on:

December 13, 2014
No Comments
PLEASE JOIN US!
Brotherhood Across America

: Motivating Youth About Their College Future
Date:
December 20, 2014
Time:
5:00-8:00 pm
Location:
8200 International Blvd. Oakland, CA 94621
A key program at EOYDC is Pathway to College (PTC). Serving an estimated 350 young people every year, PTC guides students, both re-entry and high school age, through the rigors of transitioning to college. PTC provides academic counseling, scholarship assistance, college tours, workshops and internships to introduce an array of human and social service professions and opportunities, SAT testing, personal statement reviews, and financial aid counseling. Alumni mentors are also available to work one-on-one with students to help them achieve their academic goals.
Each year, EOYDC celebrates at least 30 graduating high school seniors who effectively become part of the organization's Brotherhood Across America network of alumni. Imbued with a strong sense of loyalty and responsibility to contribute to their community wherever they go, these young adults provide critical role modeling and mentoring to their younger peers at EOYDC.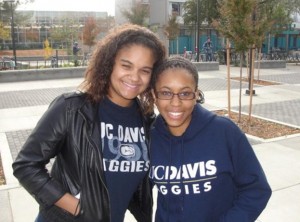 EOYDC's alumni mentors in Brotherhood Across America are undergraduate and graduate students in dozens of states, in a wide variety of fields, including business, law, social sciences, and the arts. Nearly 20% attend Historically Black Colleges, such as Morehouse and Clark Atlanta. Other EOYDC alumni are students at UC Berkeley, Harvard University, New York University, Georgetown University, Northwestern University, University of Michigan, among many other institutions.
"EOYDC taught me not to be afraid of my potential."
– Javarte Bobino EOYDC member since 1999
100% of the young people who successfully complete EOYDC's Pathway to College program matriculate to two- and four-year colleges and universities; 96% of these students graduate from those institutions. Approximately half of these college graduates return to participate as alumni mentors at EOYDC and upon graduation, many of these young people enter service-oriented careers as teachers, social workers, fire fighters, doctors, lawyers, and nonprofit professionals.