EOYDC is more than a
basketball
court or a cooking class. More than a summer
camp
or computer lab. We're not daycare providers or afterschool chaperones. We are family: a home away from home; the tough love you need to prepare you for a tough world. An oasis in the desert of inner city life. And, the pathway to a brighter future. Our free programs, which exist because of our supporters, are designed just for you. Our trained staff, in collaboration with your parents and our partners, is committed to developing you. And our community will be better because of you. The power is in your hands so we make sure you are equipped with the essential elements required for life-long success – like good character, self-respect, sense of responsibility, and access to a robust network of people who care about you. We are positive mentors for you so that you learn to be positive mentors for those who will come behind you. We respect your individuality and empower you to rise above everyone's expectations. We strive to recognize and enhance your unique talents. Here you will gain the skills and confidence needed to excel in the classroom, on the field, on the stage, on the
job
and, most importantly, in the community.
The mission of the
East Oakland
Youth Development Center is based on solid research which demonstrates that interventions that engage youth from high risk environments in forming relationships with adults, mastering a skill and contributing to their own well-being and that of their community.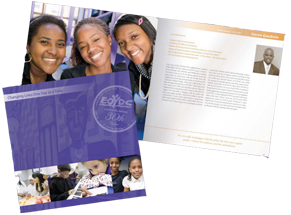 EOYDC envisions a community of individuals equipped with vision, skills, and responsible citizenship to positively contribute to society. The
East Oakland
Youth Development Center's vision has always been to become a national model for community-based youth development organizations.